Athena in The Bog – Part 1
By David La Puma, Product Specialist, Birding and Nature Markets
Here at Leica Central we're crazy about the 7×42 Ultravid HD, so it was a no-brainer that I was ecstatic to carry Athena on her second major trip of the year, this time to the Sax-Zim Bog bird festival, in Meadowlands, MN. This festival is in its seventh year, but a NY Times article last year and the coincidental invasion of both Boreal and Great Gray Owls has caused it to fill to capacity in record time two years running (approximately 169 registrants in 2014). On this trip Athena and I were joined by Max Henschell and Jessica Gorzo, teammates from birdathons past and lab mates from my previous postdoctoral work in radar ornithology. We were all scheduled to be guides for the event starting on a pre-event field trip Friday February 14th, so on the morning prior we piled into the Jeep and pointed it north, towards our first stop: The Buena Vista Grasslands of Portage, Co. Wisconsin. The reason? A gray Gyrfalcon has been seen there on and off since January 25. Even if we dipped on that bird, there would be several new birds of Athena in the Grasslands.
We arrived full of hope, and searched the area for two solid hours, by the end of which we had found exactly zero Gyrfalcons. We did, however, see Buena Vista, the second Snowy Owl tagged with a GPS transmitter in Project SNOWstorm, hanging out in the same area he was caught and tagged back in December.
It was great to see him doing well and clearly enjoying his winter refuge.
While searching the vast grasslands from the road, we turned up a flock of Snow Buntings feeding on grass seeds, another lifer for Athena and simply one of my favorite passerines.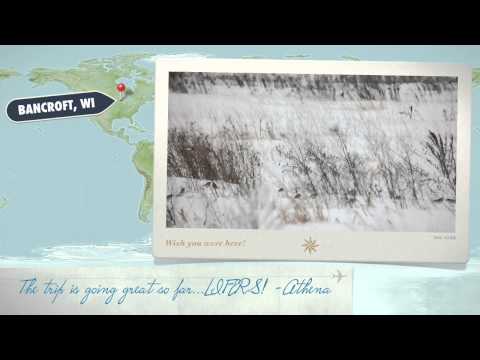 On our way back to the highway, after giving up on the falcon for the day, Max spied a lone Greater Prairie Chicken tucked under a bush in a field, demonstrating to us again why he was our MVP during the Sax-Zim Bog Birdathon in 2013… that guy can spot birds at 50mph like it's his job; anther one added to the list of life birds for our new friend Athena (although she's sure to see more in the spring when we come back to see them lekking).
The rest of the day we spent high-tailing it to Duluth to meet up with friends and expat Wisconsinites, Erik Bruhnke and Ted Keyel. We introduced them to Athena, since she was likely to see them again in the coming days, weeks and months, and we all celebrated the birds we saw, cursed the ones we missed, and strategized about the ones to come in the following days. We also introduced Athena to our favorite watering hole and restaurant in Duluth, Fitgers Pub.
Looking at eBird, Athena picked up six lifers in the Buena Vista Grassland… that's six, of the eight total species seen that day, a theme that would continue in the Sax-Zim Bog where species are few, but quality is king. Athena's additions were: Snow Bunting, Snowy Owl, Common Raven, Northern Shrike, Rough-legged Hawk and Greater Prairie-Chicken. Here is her complete checklist:
http://ebird.org/ebird/view/checklist?subID=S16924713
Read Part 2 here, when we actually make it into the Sax-Zim Bog!