David La Puma: Traveling with T-Bone on the Texas Coast
I've been a card-carrying Leica user since 2001 when our research lab purchased a 77mm APO-77 Televid spotting scope for our Cape Sable Seaside Sparrow research in the Florida Everglades. In 2004 I purchased my first Leica binocular, the Trinovid BN 8×42, which remains the finest piece of birding equipment that I own. So when Jeff Bouton, Leica Sport Optics Marketing Manager, asked me to carry the Traveling Trinovid, I was both honored and excited at the opportunity to get this brand new binocular (and possibly myself) some lifers.
I joined Jeff down on the Texas coast for the 11th annual Galveston Featherfest, a birding festival celebrating the spring arrival of trans-gulf and circum-gulf migrants to the Lower 48. Because my research involves using NEXRAD to monitor migration activity across the U.S., I spent many hours in the Leica booth demonstrating the use of radar to detect bird migration, and making predictions about birding conditions along the Texas Gulf Coast.
While we never witnessed a large warbler fallout during our five days, we did experience several waves of birds making landfall throughout the festival. From the perspective of the birds this is a great thing, as grounded birds are often exhausted and in compromised physical condition just before one of the most important stages of their lives: the breeding period. And besides, even without a massive fallout we managed to see nearly 170 species of birds, two of which were lifers for me (Franklin's Gull, one of my 'nemesis' birds, and Yellow Rail, a 'holy grail' bird to many birders including myself) and almost all of which were lifers for T-Bone!
The open pastures on Galveston Island make for some excellent birding, especially for 'grasspipers' like Long-billed Curlew, Upland Sandpipers and Buff-breasted Sandpipers. These "Uppies" were so much fun to watch, with their chicken-like behavior, and cute little wide-eyed expressions.
On a tip from one of the local birders at Lafitte's Cove we headed out to the west end of the island to look for a previously found Rough-legged Hawk. While we never turned up the hawk, we did find several excellent species on some flooded lawns, including three Long-billed Curlew and American Golden Plover.
After T-Bone got good looks at all the birds, I settled down low in the grass with my Leica Televid 65 spotting scope, and had a blast taking some frame-filling shots of this Long-billed Curlew.
Despite almost eight inches of bill, these largest shorebirds of North America carry themselves with exquisite grace. Check out this video I shot, again with my iPhone though the Leica APO-Televid 65.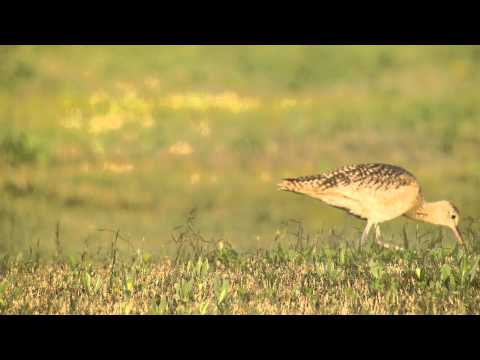 be sure to adjust the settings to view at highest resolution: 1080p HD
Watching these birds do their thing on the open pastures and lawns of Galveston you can't help but be haunted by the ghost of smallest member of the genus Numenius, the Eskimo Curlew. This bird, which may very well be extinct, was last seen alive in North American back in 1962 right here on Galveston Island. In fact, it was photographed in one of the pastures we were birding in on our trip.
While we found no good candidates for Eskimo Curlew, we did find a pasture with at least nine Upland Sandpipers, as well as the regulars such as Eastern Meadowlark and Savannah Sparrow.
White-tailed Kites were also quite numerous in these open landscapes. This one perched conveniently on one of the telephone poles right next to the road.
Over the course of four days T-Bone and I would visit many of the hotspots along Galveston Island and the Bolivar Peninsula. Our trip was full of orioles, both Orchard and Baltimore; tanagers, both Summer and Scarlet, and grosbeaks, both Blue and Rose-breasted. Warblers were few, but Prothonotaries were plentiful which really cranks up the eye-candy factor.
Near the end of our trip T-Bone and I had tallied up a respectable list of nearly 170 species, but there was one bird within reach that neither the Traveling Trinovid nor I had ever seen. At 4:15pm on our final day we reached the entrance to Anahuac National Wildlife Refuge and met up with biologist David Sarkozi on one of his 'rail walks' through the Texas saltmarsh. With about twenty other people, we lined up behind the dragging rope and David led us in a systematic transect across the prairie. After a few Sedge Wrens and Seaside Sparrows Jeff noticed a small bill peak out of the grass ahead and quickly settle back down out of view. We got closer, but didn't see anything except more wrens and sparrows flushing in front of us. Just as soon as we passed over the spot where Jeff had seen the movement, someone in the second row of participants yells "RAIL! YELLOW RAIL! RIGHT HERE!"
The rail was still down in the grass, but had been spotted. We rallied around the rail in a circle and waited as David directed us to move slowly and carefully forward, shrinking the circle and coaxing the bird to come out of hiding. David got down on his hands and knees and just so gently tickled the vegetation beneath the rail making it come up and sit on top of the grass in front of us. I fixed T-Bone right on this beautiful life bird for both of us. In what was probably five seconds, but what felt like five minutes, the bird decided to take off over our little circle and duck back into the grass never to be seen again. Amazing things, these little mice with wings. Here's a shot of the Yellow Rail as it sailed over and away from our group.
After four great days and many birds I had to say goodbye to T-Bone. It was bittersweet; that binocular is one excellent piece of glass! But I know that as the Traveling Trinovid and I go our separate ways, T-Bone's lifelist is about to go through the roof. I only hope that when all is said and done, the Traveling Trinovid remembers that Yellow Rail as fondly as I do.
Until next time.
David La Puma